Fish Report for 7-23-2016
Hot Tuna and Salmon Fishing Dreams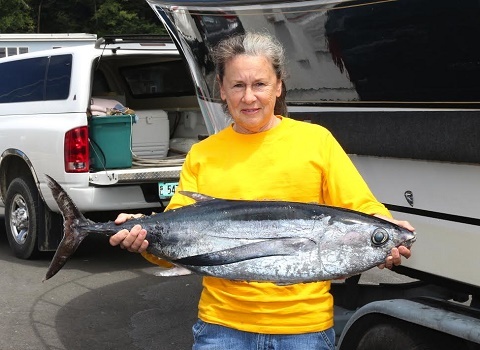 Carol Cook of Brookings holds one of the 40-plus tuna that she and her husband caught last week out of Charleston Harbor aboard their boat Dragon Bait
Photo Credit: Larry Ellis
I have always said that Brookings is the most strategically-located fishing city on the Oregon coastline. Allow me to explain what I mean by strategically-located.
Brookings has, without a doubt, what I would call the best fishing on the coast. I mean, if you want to fish for salmon, the Port of Brookings Harbor has it all.
The area also has what I believe to be, the best rockfishing and lingcod fishing on the coast. In addition, it also has some of the best surfperch fishing in the Pacific Northwest. I've seen enough of other coastlines to compare Brookings with.
But as in all things fishy, some years are a little more lackluster than others when regarding certain fish species. Specifically, this has not been the best ocean-fishing year that the Brookings area has experienced for Chinook salmon.
However, being a strategically-located port, the Port of Brookings Harbor is well within range of some other super-fisheries when the action in the ocean in southern Oregon has gone from good to mediocre.
The last few weeks are a prime example of why anglers should live in Brookings if their goals are to latch into the fastest action on the coast.
As this article is being written, anglers are pulling their boats 100 miles north to Coos Bay to cash in on some of the best tuna fishing that I have ever seen in my 35 years of living in this area. Simply launch your boat in Charleston Harbor, head out toward the 125 line and you can start counting your tuna before your rods go down.
On the other hand, anglers are also pulling their boats 100 miles south and are launching at Humboldt Bay to cash in some of the fastest-salmon action the KMZ has to offer. No exaggeration! The fishing has been that good!
The two aforementioned examples are what I mean by Brookings being strategically-located when super-fisheries in either direction go off like gangbusters.
Let's take the tuna fishing in Coos Bay for starters. One couple who own the boat Dragon Bait trailered their boat up to Charleston Harbor last week. When all was said and done, the two people had caught well over 40 tuna, and they were big ones – ranging anywhere from 25 to 35 pounds.
Another Brookings couple who own the High Hopes II also trailered their boat up to Charleston Harbor on the same day. They stopped fishing when their arms were pleasantly sore at 10 fish per person. They had caught all the fish they wanted and were the first to head for the barn.
Folks, tuna fishing just doesn't get any better than that! And I look for the rest of July and August to be off the charts as well.
Taking a look at Eureka, 100 miles the opposite direction, anglers were limiting out on Chinook ranging from 10 to 30 pounds by mid-morning. And here's the exciting thing about the fishing in Humboldt Bay. Anglers were fishing no further than the tips of the north and south jetties – no joke!
Sure, you do have to buy a California fishing license if you are fishing in California, but with fishing this fantastic, a California fishing license is tuition well spent.
"The salmon fishing is on fire," said Gary Blasi, owner of Full Throttle Sportfishing in Humboldt Bay on Monday. "We were done at 7:00 am today. And yesterday and the day before we were done at 8:39 am. They're biting and they're nice ones – up to 30 pounds. And they're in the jetties!"
Except for only one day, the action has been like that all week long.
Then the Rogue Bay decided to show off its Chinook colors as well.
"For the past 3-1/2 days, we've gone from OK/almost-good fishing to very good fishing," said Jim Carey, owner of the Rogue Outdoor Store in Gold Beach on Thursday. "Good numbers across the board and good-quality fish."
On some days, we're talking lots of jacks, and lots of adults ranging from 15 to 25 pounds.
Carey also reported that summer steelhead are starting to show up in catchable numbers as well.
Now that's exactly what I mean by Brookings being a strategically-located city. Just hop on Highway 101 and within 40 minutes you have a chance at catching some of the hardest-fighting and finest-eating Chinook any river has to offer.
As far as Brookings itself is concerned, there were 5 salmon counted by the port samplers on Wednesday, and two Chinook were caught by a bottom fisherman on Thursday. Not as good as in Eureka, but consistent in its own way.
So if you want to target Chinook in the Brookings area, I would suggest fishing shallow in water that is between 60- and 110-feet deep, and troll near the bottom. That's where most of the fish have been caught and that's where the schools of baitfish and krill have been located. And of course, where there's food – there's salmon.
Fishing for rockfish, cabezon and lingcod has been phenomenal, as usual on most days for anglers targeting the bottom-grabbers.
This is without a doubt one of the best fishing years I have ever seen. You just have to be able to pack up and do a little road tripping in order to find the hottest action.
Tight lines!
Larry Ellis, author, writer, columnist and photographer has had a 50-year passion for fishing in California and Oregon's saltwater and freshwater venues. He is a well-known writer for Oregon, Washington and California Fishing and Hunting News, Northwest Sportsman, California Sportsman and Pacific Coast Sportfishing. He currently writes monthly for Salmon Trout Steelheader Magazine, and is the author of two books, "Plug Fishing for Salmon" and "Buoy 10, the World's Largest Salmon Run."  Both books can be bought from Amato Publications (amatobooks.com), Amazon and eBay. Ellis particularly loves living in his hometown of Brookings, Oregon - The heart of salmon country and gateway to fishing paradise.
Albacore Tuna.net © 2019. All Rights Reserved.
Website Hosting and Design provided by TECK.net
Fish Database content provided by the Fish Reports Network.