Fish Report for 6-15-2016
Brookings Anglers Score Tuna in Coos Bay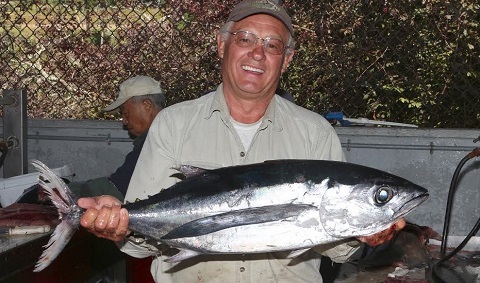 Bernie Reis from Brookings, Oregon hoists one of the many tuna that he and a few friends caught out of Charleston Harbor in Coos Bay last Wednesday....photo by Larry Ellis
Photo Credit: Larry Ellis
This fishing columnist rarely uses the phrases wide-open or red-hot in one sentence to describe any kind of fishing action. But a wide-open, red-hot tuna bite has been hammering the southern Oregon coast for over two weeks now, which has been focused primarily off of Coos Bay area.

The stellar tuna action has drawn Brookings-area anglers to make the 110-mile trek, and tow their boats up to Coos Bay to launch at Charleston Harbor.

What is odd about this particular tuna action is that it is much earlier than usual. The flurry of activity has been going on steadily since the beginning of June. Generally speaking, tuna don't go on-the-bite off the southern Oregon coast with any consistency until July.

What is not odd is that both commercial and recreational vessels have been filling their boats to capacity.

It's not a matter of whether the tuna are going to whack your zucchini and Mexican flag clones. It's a matter of when you've had enough and decide to pull the plug and stop fishing. The fishing has been that good!

For most recreational fishermen who have a limit of 25 tuna per day, their arms have grown weary long before they have reached their legal limit due to the physical limits of their bodies.

"The action has been going on for about two weeks or so," said Ken from Englund Marine in Coos Bay on Tuesday. "There was one guy who was saying that about the time he hit the 125 line, he had about 150 fish."

The 125-degree line is approximately 29 miles from Charleston. At times, anglers have been getting their fish even closer to port.

Many anglers have been making their alba-scores when the sea surface temperature has been around 61 degrees, and when they have been in the blue water. But most of the successful recreational anglers have been catching their fish in the 59- to 61-degree water that is hugging the green water/blue water break, fish that are commonly referred to as green-water tuna.`

So keep your eyes peeled on the Terrafin SST and chlorophyll charts in the local area, because as soon as the water reaches between 61- and 62-degrees, and is especially on the edge of a hard chlorophyll break, the tuna could conceivably come within 20 miles of the Brookings Harbor area.

In the meantime, as long as the water temperatures and hard chlorophyll breaks continue to frequent the Charleston Harbor area, that area will continue to draw anglers to tow their boats from the Brookings/Harbor vicinity.

DEEPWATER CHINOOK ACTION

Warm water temperatures that attract tuna seem to have driven the Chinook down to deeper venues, although not too deep for a few recreational sport fishermen fishing deep and using 15-pound downrigger balls.

Local guide, Captain Dave Castellanos, owner of Brookings Ocean Fishing had the hot sticks for Thursday, when he plied the 200-foot waters about 10-miles uphill from the Port of Brookings Harbor.

"We were about 10 miles out and fishing in depths of about 200 feet off of Whaleshead," said Samantha Clay from Lincoln, California, one of Castellanos' passengers. "We caught one salmon at 70 feet and another came at 160 feet," she noted, regarding how far the baitfish were being trolled on-the-wire.

So don't be afraid to think deep when trolling for salmon.

Some people do not like to fish deeper than 100 feet on-the-wire, and I think it might be because a lot of anglers use monofilament for their mainline. At 100-feet-plus depths on-the-wire, monofilament just has way too much stretch for consistent to-the-net action, hence, a lot of deepwater fish are lost when using mono.

So if you want to land more salmon when fishing between 80- and 160-feet deep, use braided lines for your mainline, such as 65-pound Power Pro and use longer, more-limber rods to make up for the lack of stretch of braid.

Also, be sure to use the Scotty downrigger clips, the ones that are black with a chartreuse tip. These are the best downrigger clips on the market and they have the power to insure that your braid will not slip out of the clip.

Rockfish and lingcod action has picked up considerably with limits of black rockfish and lingcod being more prominent.

In addition, the blacks have been a larger grade than usual. One of the Brookings Port Samplers told me that she measured some very large black rockfish last week that weighed between 4 and 6 pounds, and came off the charterboat piloted by Captain Andy Martin of Wild Rivers Fishing.

Surfperch action continues to remain off the charts for folks fishing small pieces of raw shrimp on an incoming tide.
Tight lines!

Larry Ellis, author, writer, columnist and photographer has had a 50-year passion for fishing in California and Oregon's saltwater and freshwater venues. He is a well-known writer for Oregon, Washington and California Fishing and Hunting News, Northwest Sportsman, California Sportsman and Pacific Coast Sportfishing. He currently writes monthly for Salmon Trout Steelheader Magazine, and is the author of two books, "Plug Fishing for Salmon" and "Buoy 10, the World's Largest Salmon Run."  Both books can be bought from Amato Publications (amatobooks.com), Amazon and eBay. Ellis particularly loves living in his hometown of Brookings, Oregon - The heart of salmon country and gateway to fishing paradise.
Albacore Tuna.net © 2019. All Rights Reserved.
Website Hosting and Design provided by TECK.net
Fish Database content provided by the Fish Reports Network.